Bird watching in Costa Rica – An introduction to Paradise
What type of Birder are you? Do like taking as many pictures as you can or do you save your film for that one special bird? Do you love hiking the trails or sitting and waiting for that exceptional moment when you find what you're looking for? No matter what type of birder you are, you certainly will find what you are looking for here. The Birds of Costa Rica are exotic and rare. You will find a vast array of colors and species from the chatty Scarlet Macaw to the Resplendent Quetzal. Explore the deep jungles of Corcovado or hike the hills of San Gerardo De Dota. Take it easy as you stroll through the trails near the Caribbean for some tropical birding or explore the fabled Monteverde Cloud Forest. From lowlands bathing in humidity to dry forests, mangroves and even tall mountain peaks. All in all, you will have a wonderful time on these Costa Rica Birding Tours and Packages.
Costa Rica bird facts
Costa Rica may be small, but it contains some of the highest density of biodiversity in the world. With 5% of the world biodiversity enclosed in 6 ecozones and 12 ecosystems, Costa Rica has the natural infrastructure to house 921 different species of birds which equals 10% of the world's birdlife. Costa Rica is a safe haven for many bird species including Scarlet macaws, the Quetzal, great potoo and Jaribu Stork. You will also find many other birds like Toucans, Humming Birds, Trogons, White Throated Magpie, Bluecrowned Motmot, Bluegray Tanager, and many more. The world-renowned flora and fauna is what brings most tourists to this gorgeous country.
If you are wondering about the best time to spot birds, you can technically do so all year. If you are keen to spot migratory bird species, your visit should be scheduled between August and December for the Autumn migration and from January to May for the winter migration when the birds return north.
Rare and endangered species
Costa Rica's ecologically rich land caters to many different species of which some are close to extinction. Of the great number of bird species found in Costa Rica, 630 are resident species and 19 are said to be endangered. Many birders travel to Costa Rica to catch of glimpse of the endangered Scarlet Macaw, Green Macaw, and the stunning Quetzal in one of the various protected reserves or indeed the Great Curassow which can be spotted in Corcovado or Santa Rosa National Park. The Mangrove Hummingbird, for instance, can only be found in Costa Rica and has become endangered due to loss of natural habitat.
If you plan a trip to the remote Osa Peninsula or even the Talamanca mountain ranges, you will have an increased chance to spot some of Costa Rica's raptor bird species. More common are birds like the Black Hawk or Osprey but perhaps you can even catch a glimpse of the rare Harpy Eagle.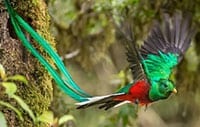 Costa Rica is probably most famous for the gorgeous Toucan, also known as 'flying bananas. Costa Rica houses 6 species of toucan included the Keel-Billed Toucan that can be found in the lowlands and the Chesnut-Mandibled Toucan that inhabits the Pacific Southwest as well as the more dense jungle along the shores. Have a look at our wide variety of bird watching packages and allow us to make some suggestions on the best place to visit!