You are traveling to Costa Rica for the first time! Maybe you are feeling a little overwhelmed. Costa Rica may be a small country, but it's packed full of amazing tropical destinations and activities. This country is renowned for its natural wonders, that include everything from white-sandy beaches and lush rainforest to active volcanoes. Whether you have romance or a fun family vacation in mind, Costa Rica will have the perfect destination for everyone. Have a look at the following travel tips to offer you a safe and worry-free vacation! Also get our free travel guide!
---
Plan ahead for the high season
great time to visit Costa Rica. However there is a definite high and low season. Tourists tend to flock to Costa Rica between December and April, during the infamous "Dry Season" and the country really comes alive. It's an incredible time to be here. But if you're planning your trip between December and April it is best to make your hotel and tour reservations WELL in advance. Rooms and tours tend to fill up very quickly during these months. Additionally prices tend to increase dramatically the closer you get to the high season. 
Any time of year is a
---
Learn a little Spanish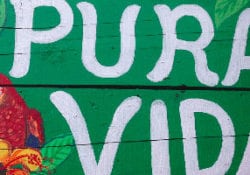 Spanish is the official language in Costa Rica. Many of the locals speak English, especially around the popular tourist destinations. You'll also have no problem finding bilingual tour guides or hotel staff. However it never hurts to know a bit of the local language! Knowing a few Spanish phrases will go a long way as you're traveling through the country, especially when you're wandering around small towns, visiting local restaurants, or buying souvenirs. Make sure you look up tico phrases and idioms as well. Ticos almost have their own version of Spanish! 
---
Be ready for tropical weather
Caribbean destinations like Puerto Viejo or Tortuguero, you'll find rainy weather almost all year-round. Whereas in Guanacaste or places like Arenal, La Fortuna and the Nicoya Peninsula, it really only rains during the rainy season. And in Monteverde or another cloud forest, you'll experience hot weather during the day but colder weather in the evening.
Be ready for tropical weather. Throughout Costa Rica you can find up to 12 different micro-climates! That means that the weather can be extremely different in two places only a few miles apart. The most common weather conditions you'll encounter will be heat, humidity and rain (depending on when and where you travel). Even if you're traveling during the dry season, be ready for all kinds of weather, even rain. It is still a tropical country after all!. For example in
---
Try vacation packages
 Costa Rica vacation packages when planning your vacations are many. For one, they can guarantee the quality and safety of certain hotels and save you the time in researching all of it yourself. A custom vacation package is made just for your needs! Want to go horseback riding beneath active volcanoes? Whitewater rafting in Guanacaste? Scuba diving in Cahuita? We'll get you there!
The reasons to use
In addition, working with a reputable travel agency like My Costa Rica is safer than traveling on your own. For example, My Costa Rica does it's research! We know the best hotels and safest tour companies with reliable tour guides. We're also available to you 24/7 as part of our Always There for You Guarantee. A vacation package is worth considering for those who want to enjoy a spectacular vacation without the hassle fo having to plan it all themselves.
Focus on one region
Costa Rica Regions. Talk to one of our expert travel guides to figure out what region will suite your needs best. 
Despite its small size, Costa Rica seems HUGE when trying to plan a vacation. Costa Rica has over 800 miles of coastline and more than 2 dozen national parks. There is so much to see! Fortunately, it is quite possible to get the entire Costa Rica experience without wasting precious vacation days trekking all over the country. For example, in Guanacaste you can visit pristine beaches, see precious flora and fauna at a national park, visit a volcano and go on various adventure and nature tours. The same applies to several other
---
Plan for more than a week
sea turtles on the Caribbean coast, go birding in San Gerardo de Dota in southern Costa rica, relax in the Rincon de la Vieja hot springs in Guanacaste, and stop by the Poas Volcano in the Central Valley!
All that being said, while you're here you might as well get the most out of it! Most people agree that Costa Rica cannot be done in a week. There is so much to see, you're much better served spending at least 10-14 days. Who doesn't want a longer vacation anyway, right? Even though the country itself is quite small, the roads are not very developed and you often have to drive through the mountains between locations, so it can take a long time. You'll also find very different cultures, beaches, forests and rainforests throughout the country so it is good to see as much as you can to get the full Costa Rica experience. If you plan for more than a week you could see
---
Be prepared to spend
While most countries in Central America and South American are typically considered cheap, Costa Rica definitely is not a cheap country. It is better to over-budget when you are planning your Costa Rica trip and be ready for high prices. This is especially true in tourist destinations. Costa Rica food, hotel, alcohol and tour prices rival those in the United States and United Kingdom. That being said it is still possible to find affordable food options and souvenirs. Shop in grocery stores for food and shop around in different tourist shops to find the best prices. Avoid buying souvenirs in the airport on your way out of Costa Rica. 
---
Bring cash and credit cards
Both are widely accepted throughout the country. The developed areas have several banks and ATMs available to get cash in dollars as well as colones. But make sure you inform yourself about any possible transaction fees! A little tip? Unless the price is listed in dollars, pay with colones. It is generally more economical to do so since not everyone gives back the right amount in dollars. Also keep in mind that if you are traveling off the beaten path, ATMs will be more scarce and USD might not be accepted.
One thing tourists always wonder about is tipping in different cultures. In Costa Rica, tipping this is not a common practice. Most of the time a 10% service tax is included in the bill. Other service providers such as taxi drivers or even guides, also don't expect to be tipped. That being said, you can still tip if you want. Rather than n obligation, in Costa Rica you can do so if you appreciated the services and want to give your guide, driver, waiter, … a little bit extra.
---
Buy a SIM card
You can travel to Costa Rica and stay in-touch with home at all times! You can expect high-speed Internet wireless as well as cable and DSL. all over the country. All hotels with 3 stars and up offer free Wi-Fi for guests. 3G and 4G services are supported and you can also purchase prepaid SIm cards at the Liberia or San Jose airport. Simply buy a local SIM card for about $2 and get a "pre-pago" (pre-paid, or pay-as-you-go) plan. Just $10 can last you up to 2 weeks! Local phone providers are Movistar, Kolbi and Claro. Convenient Apps to download before you arrive include Waze, Google Maps, WhatsApp, Skype and Uber.
---
Casado. Translated as "married man's meal," a $5 casado comes with your choice of meat (chicken, fish, pork or beef), rice, beans, salad, and plantains. And if you're lucky, your meal will also include a serving of savory picadillo–perfectly seasoned potatoes or squash. For dessert, look for tres leches. A moist vanilla cake made with three kinds of milk. Another great option is the local version of a snow-cone, known as a Granizado.
This is one of the best and most flavorful Costa Rica Travel Tips! For a tasty meal that's easy on the wallet, visit one of Costa Rica's countless sodas. They are small, mom and pop restaurants that serve the famous
---
Avoid the Tap Water outside of the Central Valley 
Within the Central Valley the tap water is safe to drink. However if you have a sensitive stomach you might want to play it safe and only drink filtered water. Outside of the Central Valley the tap water is not safe to drink. It IS safe to wash your hands, shower and brush your teeth. Carry a water bottle with you at all times. Many hotels have filtered water for free or cheaper than buying new plastic water bottles. 
---
Don't pack too much
Costa Rica has so many amazing destinations, it's likely that you'll be moving around. Pack lightweight, quick-dry clothes and leave your valuables at home. We understand that it's easy to get carried away with your clothing choices, but keep in mind that regional airlines impose strict weight limits (usually a maximum of 25 pounds per person on Sansa). Many hotels and resorts provide onsite laundry service for a small charge, and if you're staying on the beach, lightweight, quick-dry clothes are highly recommended. Remember that you can always pick up lost or forgotten items at one of the many shopping malls or pharmacies.
---
Pack sunscreen and bug spray
In Costa Rica the sun is fierce and the bugs are many! Don't let sunburn or pesky mosquito bites ruin your trip. The closer you get to the equator, the more powerful the sun gets. The best tip is to never stay in the sun for too longe to avoid skin damage, but bring factor 50 sun block, preferably water-proof. Don't forget a water bottle! While the risk of mosquito illnesses in Costa Rica are relatively low, there are still plenty of mosquitos buzzing around, especially near the rainforests. It is a good idea to carry bug spray with you at all times as well as anti-itch cream, just in case you do get a few bites. 
---
Be ready for bugs
Costa Rica is remarkable tropical country with many amazing beaches and acres upon acres of rainforests and national parks. It also contains 5% of the world's biodiversity! While we love Costa rica for its amazing diversity, that also means that there are many critters crawling around. No matter where you are staying, you'll likely encounter many different bugs. Fortunately, most are harmless! If you find an unwanted bug, don't stress about it. It is best to roll with the punches, say Pura Vida and go back to enjoying your vacation. Just make sure to check your shoes before you put them on, keep your food sealed and use bug spray and mosquito nets when necessary. 
---
Pay attention to beach & rainforest safety 
beaches in Costa Rica are truly spectacular. However riptides are rampant throughout Costa Rica so do your research about beach safety and ask locals about the currents before you take a dip. After you've enjoyed the beach you'll probably find yourself in one of Costa Rica's incredible national parks. While exploring it is always best to travel with a guide and listen to their instructions about the wildlife and trails. It is unlikely that you'll encounter dangerous wildlife in the rainforest, but make sure you follow their instructions and don't take unnecessary risks. Additionally, make sure to always follow the marked paths and hike with a group. 
The
---
Be careful when renting a car
enting a car in Costa Rica, make sure you do your research on driving in Costa Rica and on the best car rental companies. The roads in the Central Valley tend to be paved and generally kept up, but traffic is heavy and drivers are aggressive. Outside of the Central Valley you'll find a lot of gravel roads, winding mountain roads and a lot of potholes. If you do decide to drive yourself, it is a good idea to get travel insurance. Be aware that most people drive manual cars in Costa Rica, automatic cars are more expensive to rent. Gas is also very expensive in Costa Rica. You also want to tell the car rental company where you are traveling. For example, if you're going to the Monteverde Cloud Forest or similar areas, you will need 4-wheel drive and travel insurance.
If you are thinking about r